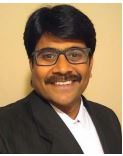 Prof. (Dr.) Sridhar Vaithianathan
---
Director & Professor (Analytics) COE-A&DS,
SVKM's NMIMS (Deemed to be University) Mumbai.
A passionate academician, Prof. (Dr.) Sridhar Vaithianathan has driven knowledge outcomes for over two decades through his teaching, research, training, and consultancy. His main areas of research and teaching interest include Business Analytics, Machine Learning Algorithms, Text Analytics, Technology Adoption, and Data Visualization.
He has a Ph.D. in Management – with his thesis focusing on technology adoption by the Indian financial services sector – from Icfai University, Dehradun, and worked as a visiting scholar at University of Toledo, Ohio, USA.
He strongly believes that fostering Industry-Academia collaborations through practitioner sessions, panel discussions, joint research, consultancy, MDPs, invited talks, and knowledge-sharing at various industry forums is the cornerstone for the betterment of management education in India.
He is passionate in the domains of Data Science and Big Data, and during his tenure as Area Chairperson at IMTH, he and his team built and offered as many as thirteen electives in the field of Analytics and Big Data.
Dr. Sridhar has received several accolades such as 'Best Professor in Business Analytics' and 'Best Researcher in Business Analytics' (World Research Council 2019) for his contribution towards the Analytics area. Dr. Sridhar was an invited speaker to the renowned INFORMS analytics conference (15-17 April 2018) held at Baltimore, Maryland, USA. He received "Highly Commendable paper award" in Analytics conference (2017) at IIM, Bangalore.
He is an active researcher and has published in both international and national journals of repute. He has attended, and presented papers in reputed conferences (International and National). He has also done consultancy projects for NPCI.
Dr. Sridhar is a trainer in Machine Learning Algorithms(MLA), Data Visualization (DV) and Structural Equation Modeling (SEM). He has conducted scores of FDPs & MDPs on SEM, MLA and DV for both industry executives and academicians. He has extensively used statistical software such as PYTHON, R, SPSS/PASW, AMOS, SMART PLS, SAS MINER, and XL MINER for his respective courses, workshops and for research.
He received his B.E. degree from M.S.University at Tamilnadu and MBA degree from National Institute of Technology (NIT), Warangal, respectively.